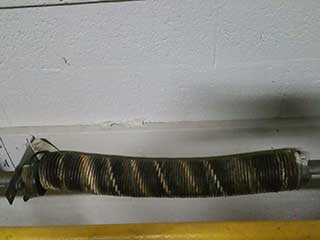 The springs supply the lifting power to move your heavy garage door. When the door closes, its weight compresses or coils the springs up again to build energy for the next opening. The mechanical stress of this operation is considerable; a broken spring is dangerous, and should only be handled by a trained professional.
Why The Danger?
In its coiled or compressed state, your springs store enough energy to lift a very large and heavy object high off the ground. If one of the springs breaks or comes loose, that energy gets released all at once, and the spring can go whipping across your garage or even send itself flying out onto the street.
Repairing Your Springs
If one of your springs has become twisted, frayed, or loose, this will increase the stress placed on other components during the garage door's operation, which can cause further damage. Provided the harm isn't yet too extensive, our technicians can carefully release and remove the spring and work out any bends or twists, scrape away rust, and replace it in its proper position. A fresh coat of lubrication will help it last longer afterward. If the spring is more severely bent, frayed, or completely broken, it will need to be replaced.
Replacing The Worn Components
We carry a wide selection of replacement garage door parts, including torsion and extension springs from a variety of manufacturers. Whatever kind of setup your garage door system has, we can find the right replacement for you. Even if it's just one of your springs that needs swapping, it's usually a good idea to replace the other one too; when one spring is faulty, it puts the others under disproportionate stress, and they'll break down too, sooner rather than later.
Contact Us For Assistance
Worn garage door springs can cause serious damage if they addressed. Our team will get yours sorted out quickly, safely and with minimal expense. Give us a call today and tell us how we can help you.
You can also count on us for:

Noisy Doors Silenced

Garage Door Remote Clickers

Broken Garage Door Spring Replacement

Maintenance Garage Door Torsion Spring