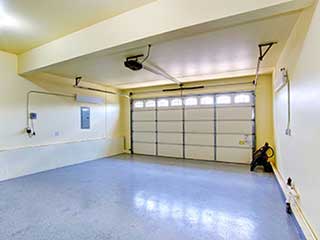 A garage door opener that's not operating properly is not only a major hassle but can also cause a serious accident. Our technicians will work tirelessly to identify any potential issues and make sure your opener is operating correctly. We'll examine its different components and ensure that it is working to its full potential. If we discover a problem, we will repair or replace the offending component.
Troubleshooting Remote Issues
Does your door open when you use the switch on the wall, but not when you operate the remote control unit? If so, then you could be facing one of two problems. First of all, make sure that the remote batteries have charge, and that there is no damage to the motor unit's antenna. If both are working correctly, then your remote may not be properly calibrated with the opener. If this is the case, you'll need to get it reprogrammed by a professional.
A Continually Running Motor
Does your opener motor carry on running when the garage door is fully open or closed? If so, you could have a travel limit switch malfunction. This switch calculates how far your door will raise or lower. Our local team can make the necessary adjustments to ensure that the door fully opens and doesn't slam shut. We'll make certain that your door opens and closes exactly as it should.
Safety Feature Malfunctions
By law, garage door openers are required to have safety features. These features include the safety sensors. This stops them from coming into contact with an obstacle in their path. A door that fails to move, stop or reverse when you place an object in its path, is probably suffering from a sensor misalignment. In this case, your door's delicate photoelectric eyes will need to either be realigned or in the case of the lens being damaged, replaced. It's time to call in the professionals!
Contact Us Today
From Craftsman to LiftMaster, we are experienced when it comes to all major brand opener manufacturers. For all types of unit problem, contact your local team of experts at Garage Door Repair Kirkland today.
Let our team take care of it for you!
Damaged Parts Repair
Oil Tempered Torsion Springs
Screw Drive Opener Replacement
Garage Door Troubleshooting Services