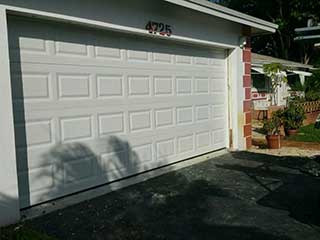 If they're not properly cared for, garage doors can be extremely dangerous, so regular maintenance checks are essential. Our technicians will look over every part of your door system to ensure it's completely safe. Regular checks and preventative repairs will ensure your door works at its best throughout its working life.
Making Sure the Door Is Balanced
A correctly-balanced garage door will move evenly up and down its tracks, but if it doesn't, there could be a problem with the springs. If it's looking particularly unbalanced, the door won't shut properly and may leave a large gap that could be exploited by intruders, or a smaller one, which could at the least, give animals access to your garage. Handling springs can be very dangerous if you don't know what you're doing, so it's best to leave any kind of adjustment to our technicians.
Springs: Examination and Lubrication
Your springs are responsible for the smooth opening and closing of your garage door – they work by providing a counterbalance to its weight. This means they're put under enormous pressure each time the door moves, which is why they'll eventually suffer from wear and tear. So our technicians will inspect the tension of your springs to make sure they're completely safe for use, and apply the proper lubricant to prevent rust forming. If it looks like your springs are on their way towards breaking, we'll let you know straight away, and recommend they're replaced.
Safety Sensor Testing
Any of our preventative maintenance sessions will include a thorough check of the safety reversal system. If there's something in the path of your door, your opener's photo-electric eyes should automatically detect it and force the door to reverse away from it. If your door doesn't reverse away from an obstacle, then those eyes are likely to need realignment or a good cleaning. We'll make sure your opener's eyes always have 20/20 vision!
Contact Us Now
Any time is a good time to call our experts at Garage Door Repair Kirkland to arrange a maintenance appointment and make sure your door is in perfect working order. So why not call today!
Our team can also take care of:

Opener Clicker Repair

Extension Spring Adjustment

Roll up Garage Door Maintenance

Commercial Garage Door Replacement